Blog
Freight and the Supply Web
Truck parking problems are not exclusive to truck drivers; they infiltrate the entire supply web.  Scott Grenerth had the opportunity to lead a panel discussion about these and other freight issues at a recent North American Strategy for Competitiveness (NASCO) conference.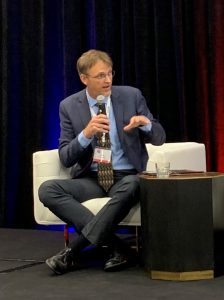 Who feels the impact in the freight market?
My educational background is environmental education. Many years ago the term food chain was augmented with the term food web. The same concept applies to freight. While following the movement of one commodity along its path may seem like a simple chain, we cannot ignore what's going on around it and the impact to other freight. If one crucial component is not delivered in a timely fashion, an entire assembly line can end up being shut down.
Introducing the supply web.
The expedited freight community exists to move small amounts of products quickly, to avoid factory shutdowns and keep critical freight moving. That effort to keep freight moving quickly is a clear sign of the interconnectedness of our supply network in North America. This message was clearly delivered to the members of the North American Strategy for Competitiveness (NASCO) at their Continental Reunion conference in September 2019. The freight generating and consuming businesses represented there from across North America can impact each other, and collectively impact the competitiveness of North America across the supply web.
Autonomous trucks to the rescue?
As I meet with freight leaders around the country, a common question revolves around autonomous trucks being the answer to the truck parking problem. This came up again and these are the (encapsulated) responses.
The technology may well be there someday for autonomous trucks to haul a wide variety of loads, but we are clearly not nearing that point anytime in the foreseeable future.

Autonomous trucks are (currently)

very

costly. This would be prohibitive, except for a minuscule number of carriers.

Given the delays and inefficiencies in the supply web today and the lack of facilities open 24/7/365, even autonomous trucks would need to park on a very regular basis when facilities are not open or congested.
Talk to the truckers.
I encouraged the audience to reach out and speak directly with the truckers who service their facilities. They are the ones who can give factual feedback which reflects the realities of the supply web and how their piece of it is functioning. If the North American network functions in harmony, that will benefit all NASCO members as they strive to be competitive.
More info on the annual NASCO event can be found at this link:
https://www.nasconetwork.com/2019-nasco-continental-reunion/
Scott Grenerth is part of the TSPS team and while he primarily drives a desk today (but does occasionally utilize his CDL) he has over a million accident-free miles behind the wheel of over-the-road trucking experience.